VW Transporter T6.1 vans are available in both SWB and LWB options – SWB standing for short wheelbase, and LWB standing for long wheelbase. The Transporter T6.1 SWB is 4.9m in length, whilst the Transporter T6.1 SWB is 5.3m in length
VW Transporter T6.1 vans are available in both SWB and LWB options – SWB standing for short wheelbase, and LWB standing for long wheelbase.
Now you might not really know what the difference is, or even what either short or long wheelbase actually means? In van listings online, you might see these listed as SWB or LWB for short.
Put simply, LWB Transporter vans are longer than SWB Transporter vans.
An SWB Transporter T6.1 is 4.9m in length.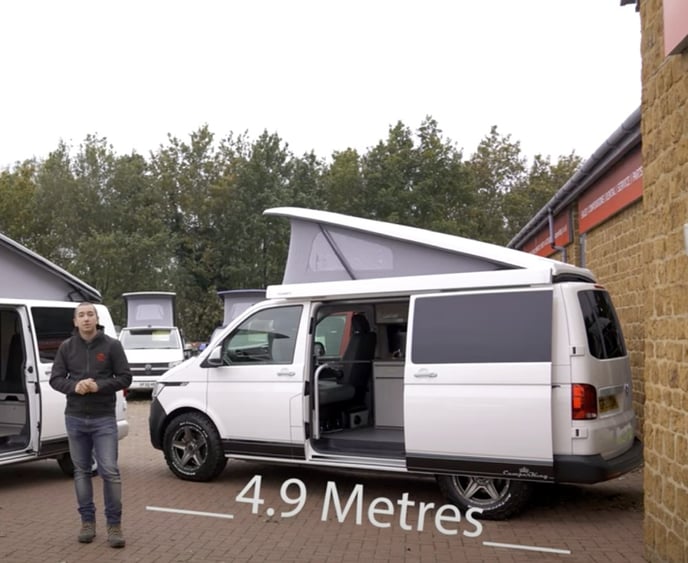 An LWB Transporter is 5.3m in length.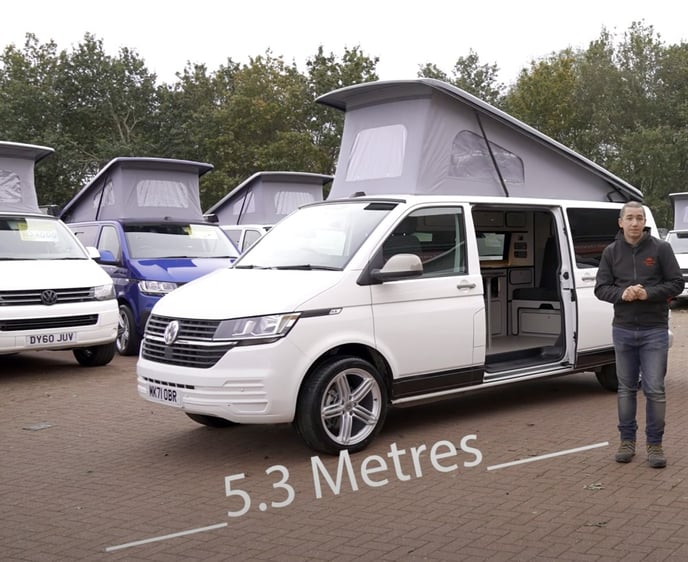 One of the big questions you will ask when buying a campervan for the first time is whether you should choose an SWB van or whether you should choose an LWB van.
In this guide, we will highlight the key points that set SWB apart from LWB and how your VW Transporter campervan conversion will differ based on the length of vehicle that you choose.
At CamperKing, you can choose to have three of our models on an SWB platform and four of them on an LWB platform. Portofino, with its full oven and three-seater rear bed, is only available as LWB, along with Santorini, while our popular St Tropez and Monte Carlo models can be used on either. Our Le Mans conversion is offered on a short wheelbase vehicle.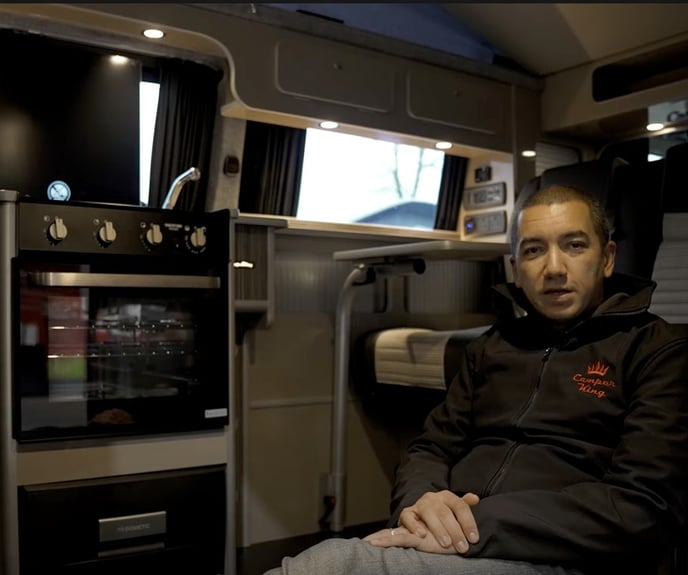 One way to tell whether you're looking at a long or short wheelbase CamperKing conversion is to look at where the side graphics are situated. On the long-wheelbase, they're fitted after the sliding door frame, but on the short-wheelbase, they appear on the door itself.
Inside the vehicle, the differences are a bit more apparent. On long-wheelbase models, our vans are provided with additional storage or a Porta Potti extension cupboard. There's also a slender overhead locker at the rear.
Naturally, there's a little more floor space in an LWB so that gives you the choice to add small side tables if you want to, or you can just use it to stretch your legs.
On the road, the characteristics of a long-wheelbase are very similar to the SWB so there's not really any noticeable difference, but the turning circle of the LWB is of course that little bit wider – 13.2m to the SWB's 11.9m.
Another thing to consider is that certain LWB accessories are a little more money than their SWB counterparts.
LWB VW Transporters are harder to find generally but at CamperKing we often will have multiple of these available for sale.
Watch our video guide
To find out more about VW Transporter SWB vs LWB, check out our video below.
Still unsure? Get in touch with us!
If you are still unsure whether an SWB or an LWB is for you, get in touch with our friendly sales team who will be able to answer all of your VW Transporter-related questions.
Interested in buying a campervan?
Already know what you want? Well look no further, we have a range of SWB and LWB VW T6.1 campervans for sale. Discover our current stock online now.