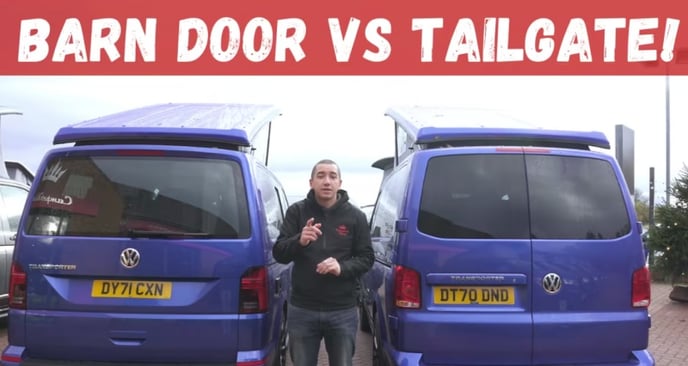 One of the biggest questions we come across when selling our VW Transporter-based campervans is whether the customer should have a tailgate or barn doors for their conversion. This is not just a question that we're asked, it's a wider debate amongst many in the VW campervan community. As it's a topic with such strong opinions we turned to Club CamperKing, our campervan owners' community, to gauge the opinion of its members and find out whether they favour a tailgate or barn doors.
As you would expect, some members were passionately for tailgate, while others were passionately for barn doors. Others, however, were sitting on the fence.
Here are some of the responses we received when asking the question - 'VW Transporter – tailgate or barn doors?
For Tailgate
"Tailgate for the bike rack and shelter
"
Sarah Jane
"I think tailgate looks nicer and was our preference but ours came with barn and actually much more practical cos you can wedge all your duvet etc in with one door closed and pillows etc without worrying about them falling out'"
Lenka Sherry-Sole
"Tailgate. It keeps the rain off when poking about in the rear (oo err missus) and gives a clearer view out the back when driving."
Mark Wills
"Tailgate for carrying 4 bikes and didn't want a tow bar"
Paul Hamilton
"Got to be tailgate every time.. Shelter..Ease of carrying bikes..and last but not least 360 views from bedroom window 😜"
Vic Knox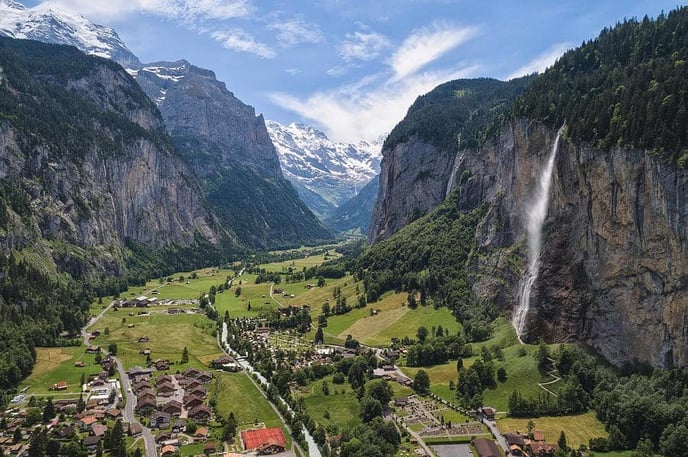 "Tailgate was a must for shelter to get out of wet gear and drying off the dog after wet walks.
I don't think we could have the bike rack we wanted with barn doors either"
Pip Rich
"Tailgate- lucky to have it … twice .. and the DSG this time too! Love the space on the inside and the fact you can just pile it all up inside (with bungees to stop an avalanche!)!Lying with the tailgate up
Enjoying the view and I want a fitted tailgate tent for a shower for next year's indulgence!"
Frances Elaine Mathews
For Barn Doors
"Barn doors, so much easier to close when you're only 5ft!"
Bernie Green
"Barn doors - meant initially I could have a door-mounted bike carrier and still open the doors … but also, able to open one half of the door without all our stuff falling out."
Peter Emm

"Barn, keeping one closed stops stuff falling out, also can open in a more restrictive space."
Garry Williams

"Barn doors 👍🏼
Easier, cheaper to replace the glass and throw a bit of plastic over the top and you've got a shelter with sides"
Richard Flanigan

"I wanted a tailgate due to the shelter, but I agree with others in that everything falls out when you open it, and you need to leave more room at the back when parked!"
Maria Harvey

"Barn doors every time. Practicality, functionality too if that's a word lol 🤣"
Colin Hackney

"We've had both and agree that although the tailgate looks better the practicality of barn doors far out weighs the aesthetics… we use ours day to day and I always reverse into a space, with the tailgate you end up having to leave a huge space behind you to allow access. Also, it doesn't lift high enough for us 6ft+ folk so the shelter benefit wasnt great and I donked my head a few times when loading…. Aaaand opening the one barn door when the bed is down gives a bit of privacy instead of exposing the full inside of the van… aaaaaaaand you can easily get the full vista by opening both barn doors and pushing the button to allow them to go right round the side. 😁👍"
Barry Brown
On The Fence
"We were looking for a tailgate but found our van which was perfect but had barn doors
In reality, the barn doors are much more practical. You don't have to leave as big a gap behind to open them, kit doesn't fall out & much easier to just open 1 door to access the back, rather than a large, heavy tailgate
We had visions of sitting out under the tailgate, but have rarely sat at the back of the van & rain is rarely vertical. We pack so everything we need can be accessed from the front of the van
Aesthetic wise, yes tailgate do look much better & I like the symmetry of them
In summary, I wouldn't let it be a dealbreaker either way, as the negatives, of each can be overcome with cargo nets/awnings, "tactical packing" etc"
Richard Smith
"Our preference was for a tailgate, but a great van with barn doors came up, so we jumped at it. We had had visions of sheltering under a tailgate but hadn't thought about what happens when you lower it and it has collected rain. Very happy with our barn doors and the option to open just the 1. Completely appreciate those with tailgate will enjoy other benefits though. I think we would have made the best of either."
Amy Aggiss

"Being honest, I really didn't think about it, but I have a friend with a tailgate & I have barn doors. I think I prefer mine for functionality, but prefer the tailgate for the look of it."
Mark Dyson

"VW makes California as we all know. They only make it with a Tailgate so I guess after years of customer focus and research groups and millions of pounds investment they choose it for a reason, rightly or wrongly."
Gary Mitchell

"Tailgate look neater and you can hang a wetsuit off them but stuff always seems to fall out, they let all the heat out super quick when cold, in reality don't offer much in the way of shelter and you have to park miles away from anything all the time. Barn doors are a lot more practical I'd say but do lose out (a tiny bit) in looks. I'd have barn doors if it was a choice but either will do nicely! 👍"
Matthew Tamlyn

"Pros of tailgate are looks, rear visibility, instant shelter, 4xbike rack, higher resale value.

Pros of barn doors are less room needed to open and gear stays inside when you open one door.
Our customers prefer tailgate on a ratio of probably 5:1.
We only order tailgate vans.
It all comes down to personal preference."
Ed Sylvester, from CamperKing dealership Moorlake

"Fell in love with the van and would have taken it either - has a tail gait and happy with it, although stuff does fall out if not careful."
Gareth Watkins

"We've had both. Barn doors are better for packing and access in small spaces. Tailgate for everything else especially looks, visibility and shelter (except when you pull it down in the rain when you can get rather wet if not careful)."
David Cronk

"I wanted tailgate, for looks, bike rack, etc but wanted a DSG more. Ended up with barn doors and they are more practical.
But still want a tailgate because I am shallow"
David Bannister
VW Transporter tailgate or barn doors - put to the test
So as you can see from the above, there's no right or wrong answer to this question. Based on the feedback of our members we decided to put the two rear door types to the test in a series of challenges. See the results of these below or skip down to the video further down to see these challenges in action.
Putting shopping in the back
With barn doors, it's easier to pack your weekly shop in, whilst a tailgate makes it more difficult to stash anything at the rear of the van.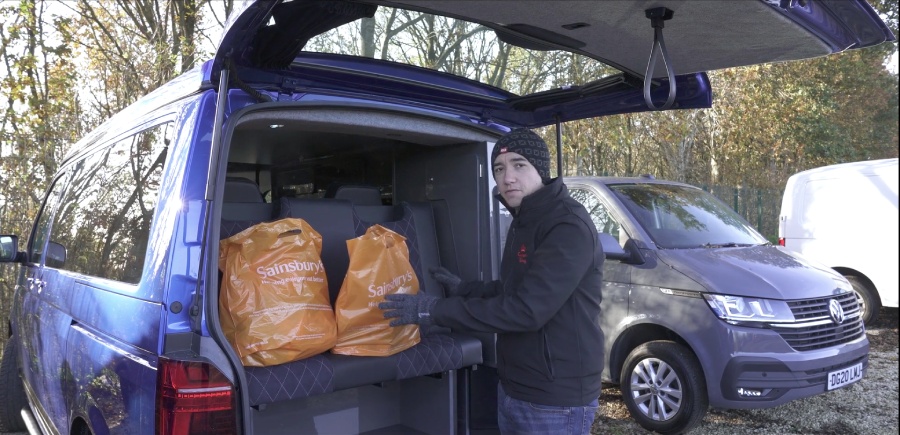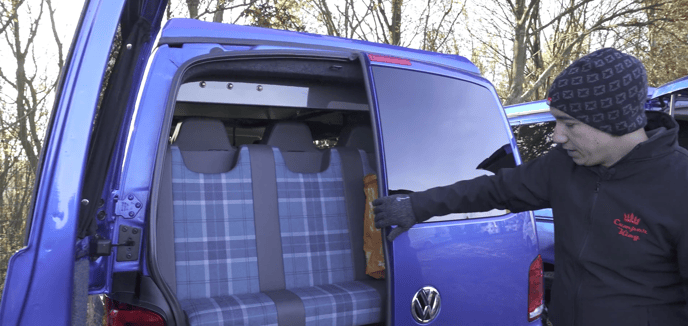 Winner: Barn doors
Keeping dry from the rain
A tailgate adds a little protection for keeping you dry in the rain. Barn doors, on the other hand, don't do the job without attaching an awning, or a sheet of plastic like one of our Club CamperKing members suggested.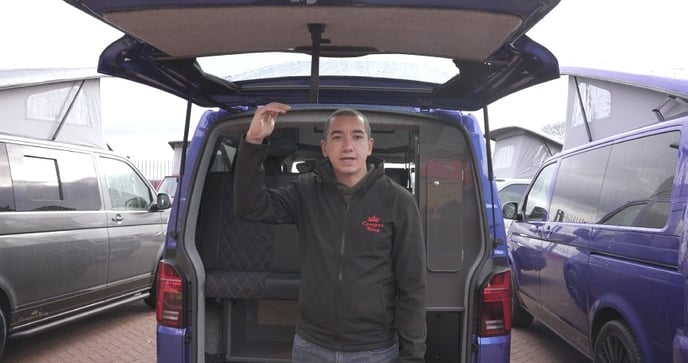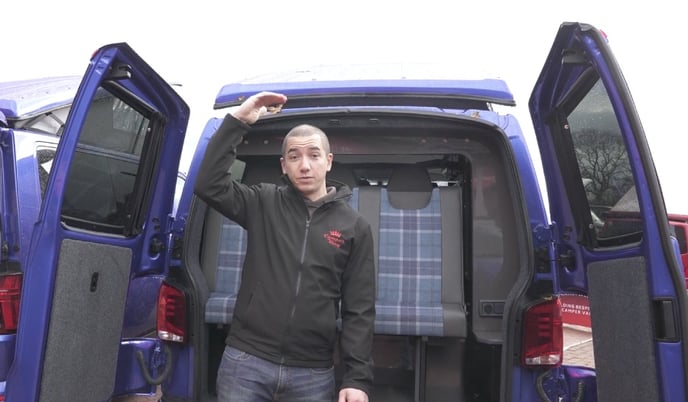 Winner: Tailgate
Tight parking spaces
There is a danger of scratching your tailgate when parking in a tight space, whilst a barn door can still allow for easy access with limited room.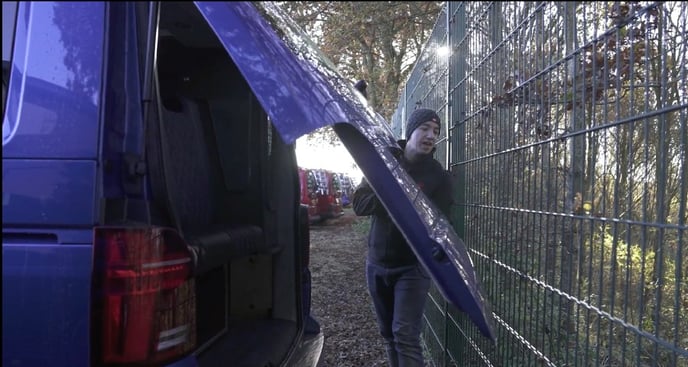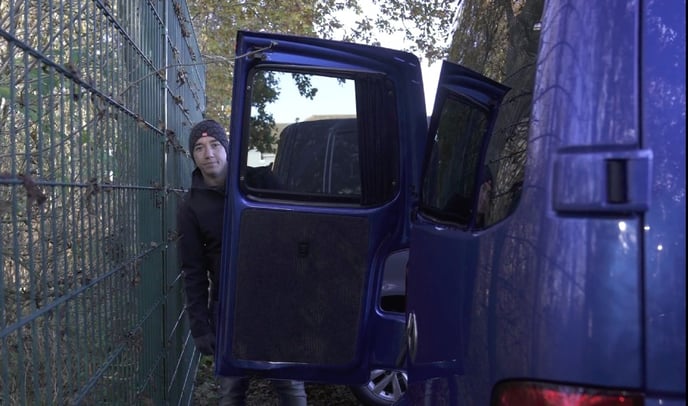 Winner: Barn doors
Packing for a trip
Whilst on the road, it's inevitable that things will move from the original position you packed them in. Barn doors mean you can stop things falling out after your journey, whereas the tailgate doesn't stop a thing.
Winner: Barn doors
Privacy
Barn doors allow for privacy on either side when enjoying the view, whilst a tailgate leaves the rear of your van quite a bit more open.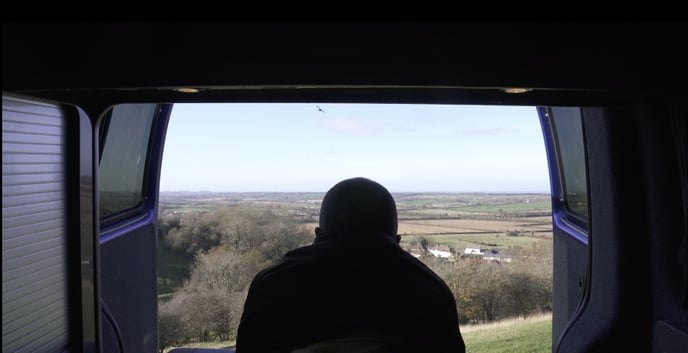 Winner: Barn doors
Bike storage
With barn doors, you can only add a bike rack capable of carrying to two bikes on the road, whilst with a tailgate, you will be able to carry up to four bikes on the rack.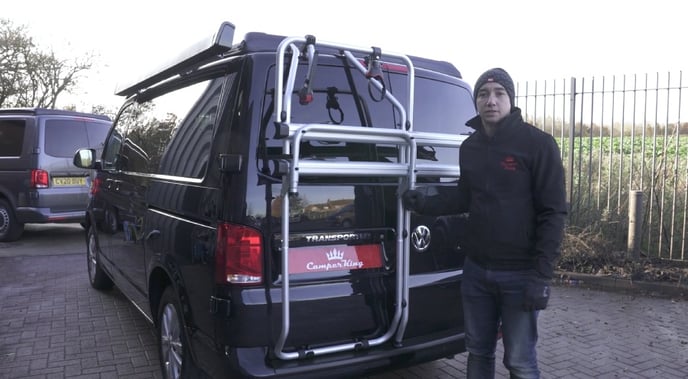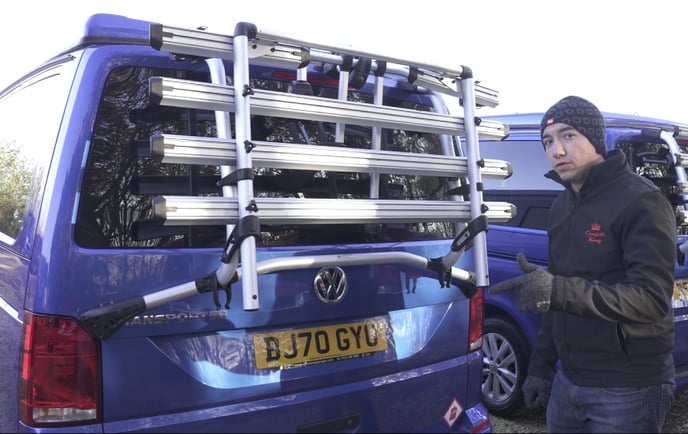 Winner: Tailgate
Rear visibility
With no central pillar, a tailgate offers an unrestricted view when reversing.
Winner: Tailgate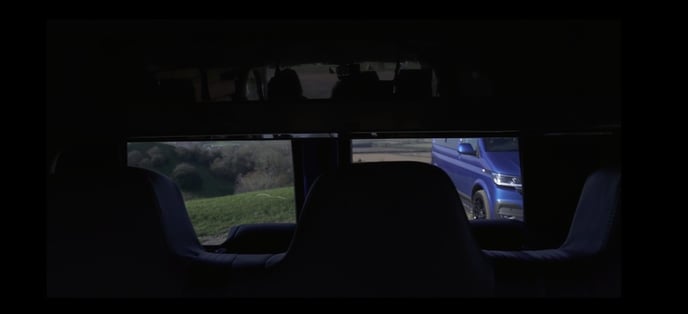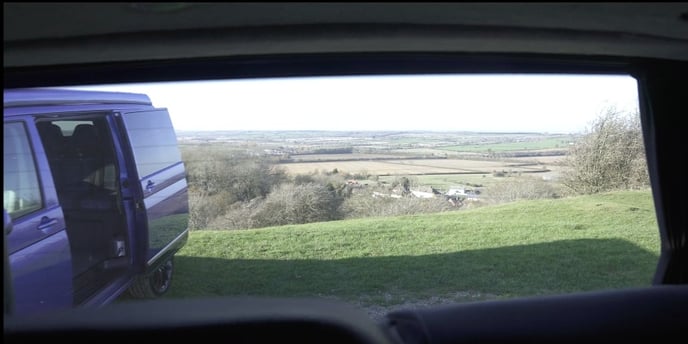 Watch our video guide
Final verdict
With our challenges tied at 3 - 3, the answer to the question of tailgate or barn doors largely comes down to personal preference and how you will be using your CamperKing campervan.
If the above still hasn't helped you, get in touch with our sales team who will be able to talk you through the pros and cons of both.
Discover our current campervans for sale